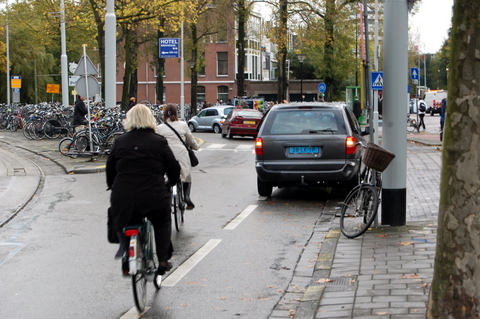 Summer of 1981. I am ridig home from the trainign with the swim team. The driving rain constantly hits me in the eyes, so I look down often, to prevent the impact. Kawumm - what was that? Confused, I get up again. I realize that I had hit a parked csar, tthat I managed to overssee. My chin is bloddy, there is broken glass, my handlebar is not straight anymore. I am ticked off, but it was my own fault!
But that wasn't worst part abouit it. Contacting the car owner, going to the doctor, getting stitches. We had a project week at school, I was in the soccer camp. One week and I could not participate. Rats. It was a valuable lesson learned that still helps me today.
Predicitve riding is a corner stone in safe cyclimg. When you see obstacles like potholes, parked cars, animals you can earlier, much more easily and much better react to it. That is the reason to stay concenteated all thr time while cyclimg!
  
Heads Up

Many dangers can be eliminated or at least minimized via predictive riding. For example broken glass lyinmg around. Don't forget to scan over your shoulder first!
Potholes with their imherit crash danger can also be Seliminated this way.
The above picture shows how to avoid parked cars. You can also "smell" more subtle dangers, like when a person backs out of a parking space (having the rear gear light on) 
When yopu pay close attention to all the details, you can predict in most cases if an in whoch direction a motorist is turning when s/he does not use a turn signal.
Cyclists have big advantages over motorists sealed off in their tin boxes - usage of all the senses to feel out the surroundings and smell danger before it even appears.
I once witnessed a car-car accident. I saw it happening literally seconds before it happened. I had already slowed down because I noticed a car - invisible due to hedges - was coming from the left.
Don't unterestimate this useful tool and don't get distracted while driving a bicycle!
Videoclip to predictive riding - here in Copenhague
Always scan ahead. This boy was so concentrated to get the yellow light that he didn't notice the bus passengers getting off. All of us cyclists slowed down and he almost plowed into me! Ok, I guess he was irritated I didn't use brake lights :)